Solier Cafe
The real meeting place Solier Cafe, a cozy restaurant and a pastry shop in the center of Gödöllő!

Pleasant environment friendly hospitality, delicious flavours, unique, high-quality creations, taste experiences cavalcade are waiting for you!

If you have any special occasion, reception buisness lunch, wedding, etc...,
We would be glad to help you with our catering service!
Solier Cafe - Restaurant, Confectionary & Catering
2100 Gödöllő, Dózsa György str. 13.
Reservation: 06-20-396-55-12
solier@solier.hu
Opening hours
Monday: 09:00 - 21:00
Tuesday-Saturday: 08.00 - 22.00
Sunday: 09:00 - 21:00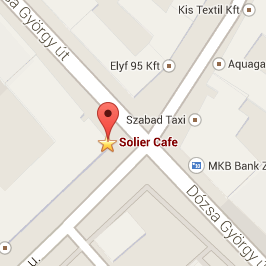 English-language menus can be found here!
Reserve your table, the most convenient way


Click on the image below:



We welcome you!
Csaba Szoljár restaurant manager and Solier Cafe team